Archive for the 'Party Supply' Category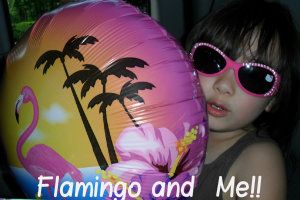 My daughter and her Flamingo balloon, hope you can spot the BLUE:)
Balloon- $1.00 – Dollar Store
Hello Kitty Sunglasses- $5.00- Walmart
Note: You do not have to buy and wear expensive sunglasses to look cool and pretty. LOL!
Joining for the Blue Monday!
Have you ever noticed and wonder where are those booths getting their banners, stands, table covers and more? I could not help but to be amazed with the different colors, sizes and designs of those equipment, that can be seen on big promotional events like sports, movies and parties. A couple months ago, we watched the opening of football game in our area. There were different trade show booths where people are showcasing their different kinds of products. It was all over the placed. It was a good idea because the products that were show cased were placed properly and easy for the sales person to demonstrate and for the people to look closely.
When attending parties, wedding, conference and other formal occasions, the very first thing that will be noticeable to the eyes of people are the table skirts as they come in one color with logos or names on it. Wondering were to buy elegant and fine table skirts or table covers? There is a place that specializes of selling them and comes in different styles. How about banner stands? Are you looking for a place that sells them? Banner stands are necessary and mostly visible in movie theaters. Advertisers or promoters uses banner stands to promote their products and it comes in different styles like retractable banner stands, regular non retractable banner stands, classic banner stands, outdoor banner stands, telescoping banner stands and many more.
Pipe and Drape are use in concert, movie opening and other presentations where there are crowd of people. These tools are use by many agencies and organization to control the crowd and maintain privacy. Where to buy the best pipes and drapes? There is a website that anyone can visit and check for different prices and styles according to its function and needs.